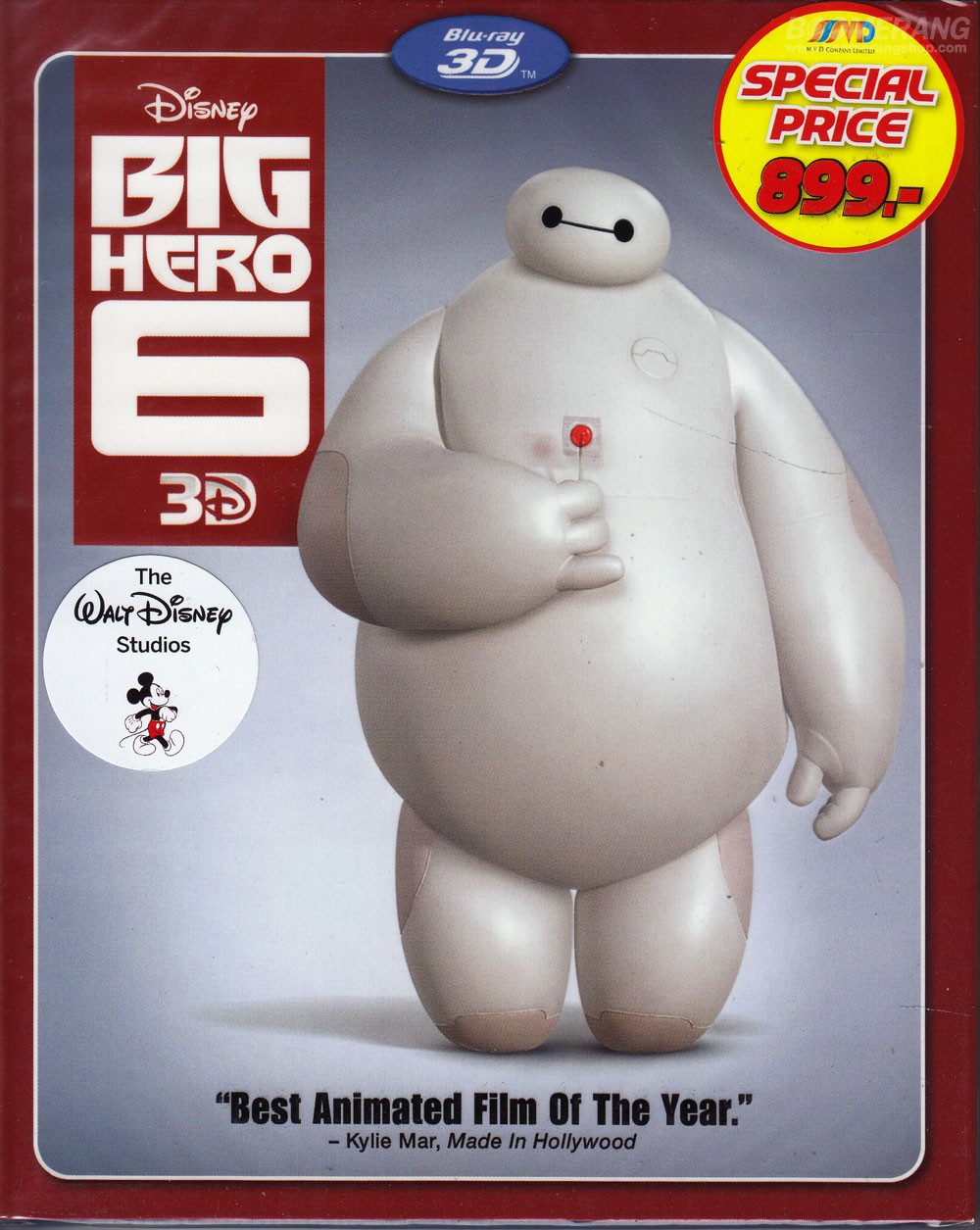 Click for larger image and over views
Big Hero 6 /บิ๊ก ฮีโร่ 6 (Blu-ray 3D)
Format: Blu-ray
UPC: 8856021431369
Product Status
Shipping & Pickup

Checking stock...
SRP (Baht) :

999.00

Our Price (Baht) :

899.00
Click to see shopping cart
details or checkout.

Release Date :

05/03/2015

Genres :

Action, Adventure, Animation, Cartoon, Comedy, Family, Sci-Fi

Aspect Ratio :

1080p Widescreen 16:9

Language :

English 7.1 DTS HD MA, Thai 5.1 DD, Mandarin 5.1 DD, Portuguese 5.1 DD

Subtitles :

English, Thai, Chinese, Korean, Malay & Indonesia Bahasa, Portuguese

Number of discs :

1

Package :

Blu-ray 3D

Rated :

PG
- Bring The 3D Experience Home With Blu-ray 3D
Actors :

Katie Lowes, Damon Wayans Jr., Jamie Chung, T.J. Miller, Genesis Rodriguez, Scott Adsit, Maya Rudolph, Daniel Henney, Alan Tudyk, Abraham Benrubi, James Cromwell

Directors :

Chris Williams, Don Hall

Studio :

Walt Disney Animation Studios, Walt Disney Pictures

Run Time :

101 mins.

Synopsis :

ภาพยนตร์แอนิเมชั่นจาก วอลท์ ดิสนีย์ ผลงานจากผู้สร้าง ราพันเซล, ราล์ฟ วายร้ายหัวใจฮีโร่ และ โฟรเซ่น ผจญภัยแดนคำสาปราชินีหิมะ Big Hero 6 (บิ๊กฮีโร่ ซิกซ์) สร้างจากหนังสือการ์ตูนของ มาร์เวล คอมิคส์ เล่าเรื่องของ ฮิโระ (พากย์เสียงโดย ไรอัน พอตเตอร์) และ ทาดาชิ (พากย์เสียงโดย แดเนียล เฮนนี่ย์) พี่ชายของเขา รวมถึงหุ่นยนต์ตุ้ยนุ้ยพองลมที่พี่ชายของเขาสร้างขึ้นมานามว่า เบย์แม็กซ์ (พากย์เสียงโดย สก็อตต์ แอทซิท) และกลุ่มเพื่อนทั้ง 4 คน ได้แก่ โกโก ทามาโกะ (พากย์เสียงโดย เจมี่ ชุง), ฮันนี่ เลมอน (พากย์เสียงโดย เจเนซิส โรดริเกซ) , เฟรดซิลล่า (พากย์เสียงโดย ที เจ มิลเลออร์) และ วาซาบิ (พากย์เสียงโดย เดมอน เวย์นส์ จูเนียร์) ที่จะมาร่วมทีมสวมชุดเกราะพิเศษที่เขาสร้างขึ้นมาเพื่อปกป้องเมืองซานฟรานโซเกียวจากการบุกรุกของ ชายในหน้ากากคาบูกิ ซึ่งแฟนๆ จะได้เห็นการต่อสู้อันน่าตื่นเต้นของแก๊งค์บิ๊กฮีโร่ ซิกซ์ และความน่ารักสุดทะเล้นของเบย์แม็กซ์ที่จะครองใจผู้ชมทุกเพศทุกวัย




With all the heart and humor audiences expect from Walt Disney Animation Studios, Big Hero 6 is an action-packed comedy adventure that introduces Baymax, a lovable, personal companion robot, who forms a special bond with robotics prodigy Hiro Hamada. When a devastating turn of events catapults them into the midst of a dangerous plot unfolding in the streets of San Fransokyo, Hiro turns to Baymax and his diverse group of friends - adrenaline junky Go Go Tomago, neatnik Wasabi, chemistry whiz Honey Lemon and fanboy Fred - who transform into a band of unlikely heroes. Bring home Disney's Big Hero 6, featuring comic-book-style action and hilarious, unforgettable characters - it's fun for the whole family!