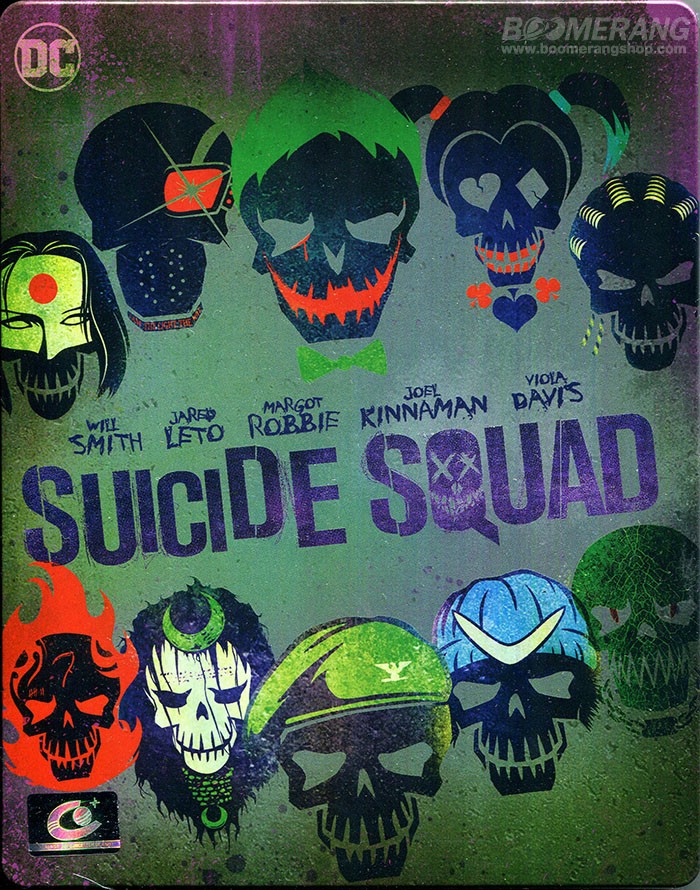 Click for larger image and over views
Suicide Squad/ทีมพลีชีพมหาวายร้าย (Blu-ray 3D + Blu-ray Extended Cut + Steelbook)
Format: Blu-ray
UPC: 8858988843209
Product Status
Shipping & Pickup

Checking stock...
SRP (Baht) :

1,990.00

Our Price (Baht) :

1,490.00
Click to see shopping cart
details or checkout.

Release Date :

07/12/2016

Genres :

Action

Aspect Ratio :

1080p Widescreen 16:9, 2.40:1

Language :

BD3D: Protuguese 5.1, French 5.1, English Dolby Atmos TrueHD, English ADS-US 5.1, Spanish 5.1, Thai 5.1 BD2DEXT: English Dolby Atmos TrueHD

Subtitles :

BD3D: Portuguese, Chinese, French, Cantonese, English, Spanish, French, Thai BD2DEXT: Arabic, Bulgarian, Chinese, Cantonese, Croatian, Czech, Danish, English, Portuguese, Estonian, Finnish, Greek, Hebrew, Hungarian, Icelandic, Korean, Lithuanian, Latvian, Norwegian, Polish, Romanian, Russian, Slovenian, Swedish, Thai, Turkish

Number of discs :

2

Package :

Blu-ray 3D + Blu-ray Extended Cut + Steelbook

Rated :

15+
BD2D:

- Task Force X: One Team, One Mission

- Chasing the Real

- Joker & Harley: "It" Couple of The Underworld

- Squad Strength and Skills

- Armed to the Teeth

- This is Gonna Get Loud: The Epic Battles of Suicide Squad

- The Squad Declassified

- Gag Reel
Actors :

Will Smith, Jared Leto, Margot Robbie

Directors :

David Ayer

Studio :

Atlas Entertainment, DC Comics, DC Entertainment

Run Time :

123/136 Mins.

Synopsis :

เรื่องย่อ : Suicide Squad

รวมดาวร้ายจากฝั่ง

DC

มาไว้ในเรื่องเดียวโดยเป็นเรื่องราวเกี่ยวกับเมื่อพวกดาวร้ายได้รับโอกาสให้แก้ตัวเพื่อชดใช้ความผิด ด้วยการทำภารกิจที่โคตรยากและเปรียบเสมือนการฆ่าตัวตายชัดๆและบทที่แฟนหนังทั่วโลกสนใจมากที่สุดคงหนีไม่พ้นโจ๊กเกอร์ คู่ปรับสุดกวนของ

Bat Man

มนุษย์ค้างคาว โดยงานนี้โจ๊กเกอร์ รับบทโดย จาเรด เลโต




It feels good to be bad..Assemble a team of the world's most dangerous, incarcerated Super Villains, provide them with the most powerful arsenal at the government's disposal, and send them off on a mission to defeat an enigmatic, insuperable entity. U.S. intelligence officer Amanda Waller has determined only a secretly convened group of disparate, despicable individuals with next to nothing to lose will do. However, once they realize they weren't picked to succeed but chosen for their patent culpability when they inevitably fail, will the Suicide Squad resolve to die trying, or decide it's every man for himself?