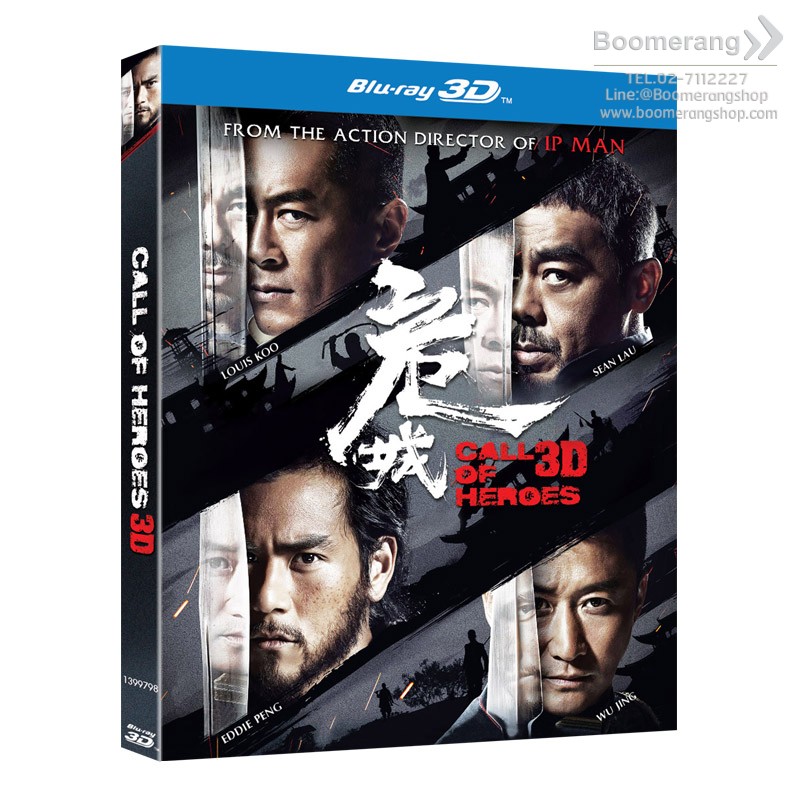 Click for larger image and over views
Call Of Heroes/มังกรหนุ่มผยองเดช (Blu ray 3D)
Format: Blu-ray
UPC: 8859125409487
Product Status
Shipping & Pickup

Checking stock...
SRP (Baht) :

899.00

Our Price (Baht) : 599.00
Promotion Price (Baht) :

499.00
Click to see shopping cart
details or checkout.

Release Date :

24/05/2017

Genres :

Action, Chinese

Aspect Ratio :

1080P Hi-DEF 2.39:1

Language :

Thai DTS-HD 7.1, Cantonese Dolby Atmos, Mandarin True-HD 7.1

Subtitles :

English, Traditional Chinese, Simplified Chinese, Thai

Number of discs :

1

Package :

Blu-ray 3D

Rated :

15+
Actors :

Sammo Kam-Bo Hung, Tin Chiu Hung, Shuying Jiang, Eddie Peng

Directors :

Benny Chan

Studio :

Bona Film Group, Sun Entertainment Culture, Universe Entertainment

Run Time :

119 Mins.

Synopsis :

เรื่องย่อ : Call of heroes ค.ศ.1914 ประเทศจีนเต็มไปด้วยเหล่าขุนศึกที่แย่งชิงอำนาจ เฉาเส้าหลิน ลูกชายของแม่ทัพเฉาอิงเข้ามาในเมืองผู่เฉิงและฆ่าครูกับเด็กนักเรียนไป3คน ทำให้ถูกหยางเค่อหนาน หัวหน้าเมืองผู่เฉิงจับขังคุก แต่เฉาอิงขู่ว่าหากไม่ปล่อยตัวเฉาเส้าหลินจะถล่มเมืองผู่เฉิงให้ราบ ทำให้ชาวเมืองต้องลุกขึ้นมาปกป้องเมืองจากกองทัพของเฉาอิง




During the warlords era in China, a village located in rural area called Pucheng fell into dangerous situation when its government allocated all its military force to the front line, the cruel commandant Cao from the enemy troops arrived the village and killed the innocent, the guardians of Pucheng were desperate to fight against Cao for justice and to protect their homeland.