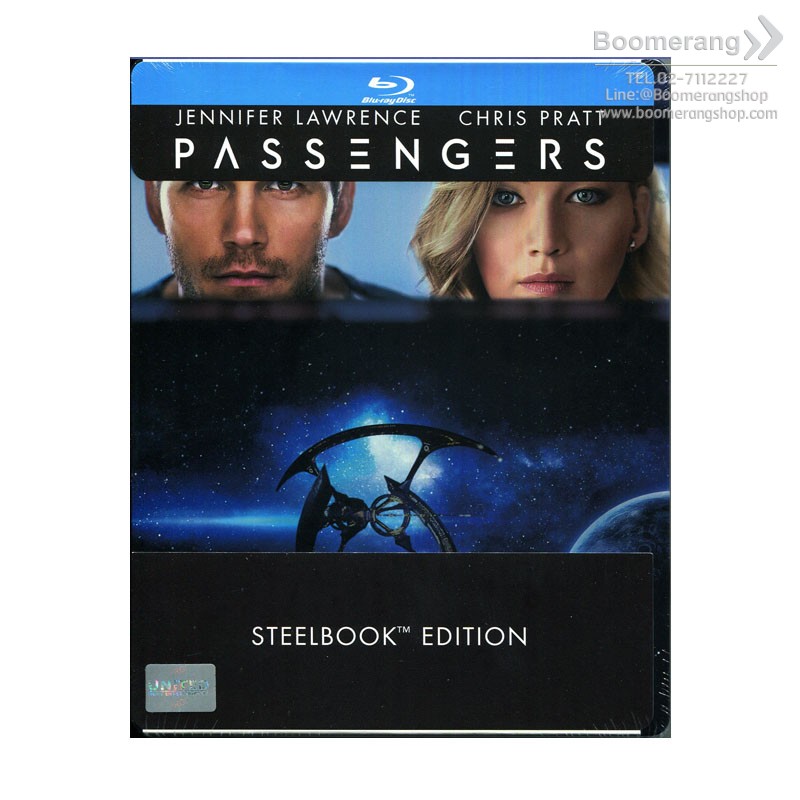 Click for larger image and over views
Passengers/พาสเซนเจอร์ส์ คู่โดยสารพันล้านไมล์ (Blu Ray) (Steelbook) (BD 3แผ่น 999)
Format: Blu-ray
UPC: 8858988750170
Product Status
Shipping & Pickup

Checking stock...
SRP (Baht) :

1,390.00

Our Price (Baht) : 1,290.00
Promotion Price (Baht) :

399.00
Click to see shopping cart
details or checkout.

Release Date :

29/03/2017

Genres :

Adventure, Drama

Aspect Ratio :

1080p HD Widescreen 2.39:1

Language :

English, Portuguese 5.1 DTS HD MA, Czech, Hungarian, Polish (Voice Over), Spanish, Thai, Turkish 5.1 (DD)

Subtitles :

Arabic, Bulgarian, Chinese Simplified, Chinese Traditional, Croatian, Czech, English, Greek, Hebrew, Hungarian, Icelandic, Indonesia/Bahasa, Korean, Malay, Polish, Portuguese, Romanian, Serbian, Slovak, Slovene, Spanish, Thai, Turkish, Vietnamese

Number of discs :

1

Package :

Blu-ray Steelbook

Rated :

13+
Blu-ray Exclusives:

- Space on Screen: The Visual Effects of Passengers




Also Includes:

- On the Set with Chris Pratt

- Book Your Passage: Looking for a New Life? Learn more About the Homestead Company. See What Awaits You.
Actors :

Jennifer Lawrence, Chris Pratt, Michael Sheen

Directors :

Morten Tyldum

Studio :

Columbia Pictures, LStar Capital

Run Time :

116 Mins.

Synopsis :

เรื่องย่อ : Passengers เจนนิเฟอร์ ลอว์เรนซ์ และ คริส แพรตต์ โคจรมาพบกันในภาพยนตร์ไซไฟผจญภัยลุ้นระทึกที่เล่าเรื่องราวของ ออโรร่า กับ จิม สองผู้โดยสารบนยานอวกาศที่กำลังพาพวกเขาไปใช้ชีวิตใหม่บนดาวดวงอื่น แต่การเดินทางต้องพลิกผันสู่อันตราย เมื่อแคปซูลจำศีลของพวกเขาได้ปลุกทั้งคู่ให้ตื่นก่อนถึงที่หมายล่วงหน้าถึง 90 ปี ขณะที่ทั้งสองพยายามค้นหาความจริงที่อยู่เบื้องหลังอุบัติเหตุครั้งนี้ พวกเขาก็พบว่ายานอวกาศกำลังจะพังพินาศ และทำให้ผู้โดยสารกว่า 5,000 คนที่กำลังหลับใหลตกอยู่ในอันตราย เวลานี้จึงมีเพียงจิมกับออโรร่าเท่านั้นที่จะรักษาชีวิตทุกคนไว้ได้




The spaceship, Starship Avalon, in its 120-year voyage to a distant colony planet known as the "Homestead Colony" and transporting 5,258 people has a malfunction in one of its sleep chambers. As a result one hibernation pod opens prematurely and the one person that awakes, Jim Preston (Chris Pratt) is stranded on the spaceship, still 90 years from his destination.