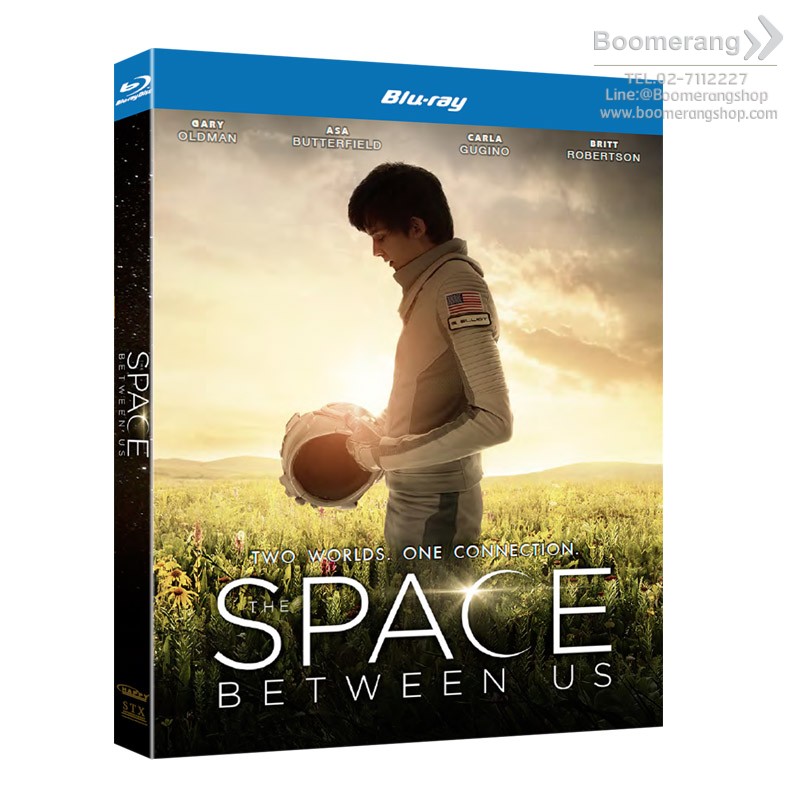 Click for larger image and over views
Space Between Us, The/รักเราห่าง(แค่)ดาวอังคาร (Blu ray)
Format: Blu-ray
UPC: 8859125410896
Product Status
Shipping & Pickup

Checking stock...
SRP (Baht) :

899.00

Our Price (Baht) : 599.00
Promotion Price (Baht) :

499.00
Click to see shopping cart
details or checkout.

Release Date :

18/05/2017

Genres :

Drama, Sci-Fi

Aspect Ratio :

1080 HD Widescreen 2.40:1

Language :

English DTS HD MA 5.1, Thai DTS HD MA 5.1

Subtitles :

English, Thai

Number of discs :

1

Package :

Blu-ray

Rated :

15+
Actors :

Gary Oldman, Asa Butterfield, Carla Gugino

Directors :

Peter Chelsom

Studio :

Los Angeles Media Fund (LAMF), STX Entertainment, Southpaw Entertainment

Run Time :

116 Mins.

Synopsis :

เรื่องย่อ :

Space Between Us, The

โดยภาพยนตร์ จะบอกเล่าถึงเรื่องราวของ การ์ดเนอร์ เอลเลียต (รับบทโดย อซา บัตเตอร์ฟิลด์) เด็กชายวัย 16 ปีที่เกิด เติบโต และใช้ชีวิตอยู่บนดาวอังคาร ซึ่งวันหนึ่งดันไปตกหลุมรักกับ ทัลซา (รับบทโดย บริทท์ โรเบิร์ตสัน) หญิงสาวที่อาศัยอยู่บนโลก การติดต่อระหว่างเขาและเธอเกิดเป็นความผูกพันอันลึกซึ้ง จนทำให้เขาตัดสินใจออกเดินทางผจญภัยไปสู่ดาวอีกดวงที่เขาไม่เคยย่างกรายไปถึงอย่าง ''โลก''




In this interplanetary adventure, a space shuttle embarks on the first mission to colonize Mars, only to discover after takeoff that one of the astronauts is pregnant. Shortly after landing, she dies from complications while giving birth to the first human born on the red planet - never revealing who the father is. Thus begins the extraordinary life of Gardner Elliot - an inquisitive, highly intelligent boy who reaches the age of 16 having only met 14 people in his very unconventional upbringing. While searching for clues about his father, and the home planet he's never known, Gardner begins an online friendship with a street smart girl in Colorado named Tulsa. When he finally gets a chance to go to Earth, he's eager to experience all of the wonders he could only read about on Mars - from the most simple to the extraordinary. But once his explorations begin, scientists discover that Gardner's organs can't withstand Earth's atmosphere. Eager to find his father, Gardner escapes the team.