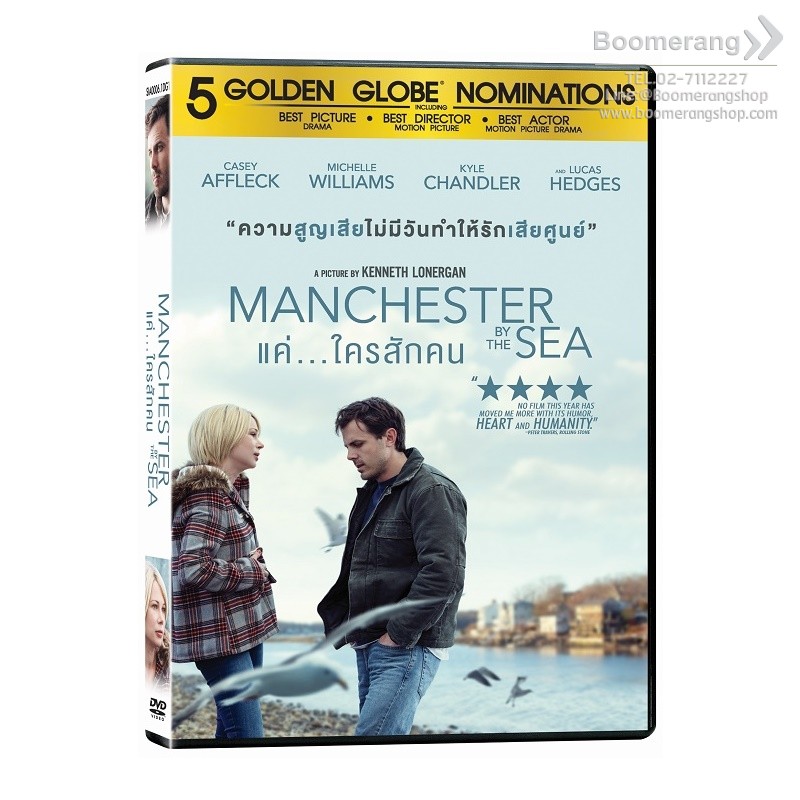 Click for larger image and over views
Manchester By The Sea/แค่...ใครสักคน
Format: DVD (3)
UPC: 8856021445229
Product Status
Shipping & Pickup

Checking stock...
SRP (Baht) :

299.00

Our Price (Baht) :

279.00
Click to see shopping cart
details or checkout.

Release Date :

22/06/2017

Genres :

Drama

Aspect Ratio :

Widescreen 16:9

Language :

English 5.1, Thai 5.1

Subtitles :

English, Thai

Number of discs :

1

Package :

DVD SE

Rated :

13+
Actors :

Casey Affleck, Michelle Williams, Kyle Chandler

Directors :

Kenneth Lonergan

Studio :

Amazon Studios, K Period Media, Pearl Street Films

Run Time :

137 Mins.

Synopsis :

เรื่องย่อ : Manchester By The Sea เล่าเรื่องครอบครัวแชนด์เลอร์ ครอบครัวชนชั้นแรงงานจากแมสซาชูเซตส์ที่โจ (ไคล์ แชนด์เลอร์) พี่ชายของลี (เคซีย์ แอฟเฟล็ก) จากโลกนี้ไปอย่างไม่คาดคิด เขาจึงต้องเป็นคนดูแลหลานชาย (ลูคัส เฮดเจส) แล้วลีก็ต้องเผชิญหน้ากับโศกนาฏกรรมในอดีตที่พลัดพรากเขาจากอดีตภรรยา แรนดี้ (มิเชล วิลเลี่ยมส์) และชุมชนที่เขาได้เกิดและเติบโตมา




An uncle is obliged to return home to care for his nephew after his brother dies. Not knowing that he has been named guardian, he struggles with the decision. Throughout the movie he recounts past memories that caused him to leave Manchester and distance himself from his past.