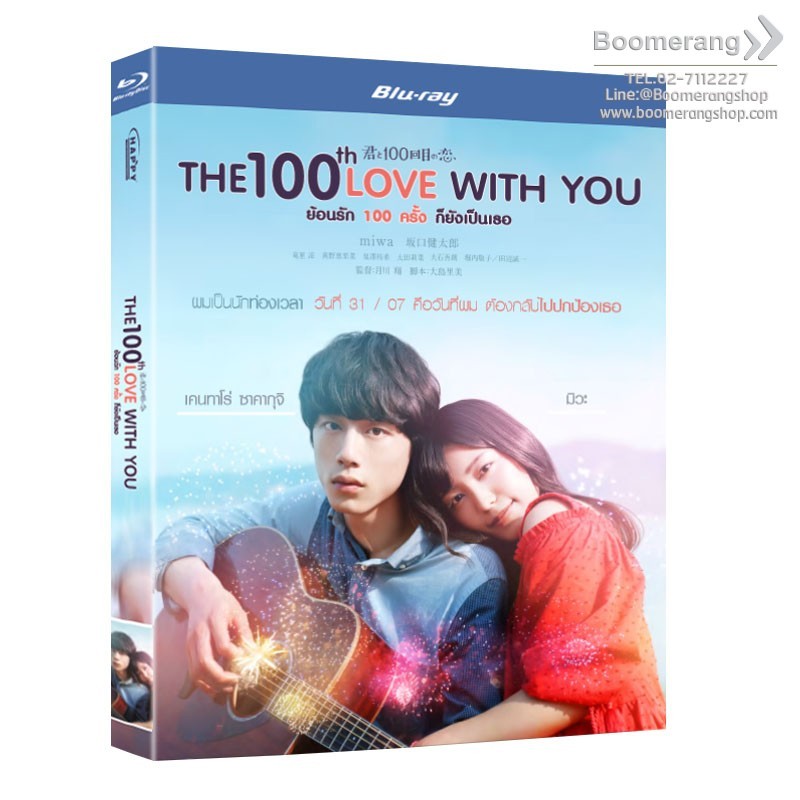 Click for larger image and over views
100th Love with You ,The /ย้อนรัก 100 ครั้ง ก็ยังเป็นเธอ (Blu ray)
Format: Blu-ray
UPC: 8859125420338
Product Status
Shipping & Pickup

Checking stock...
SRP (Baht) :

899.00

Our Price (Baht) :

599.00
Click to see shopping cart
details or checkout.

Release Date :

02/08/2017

Genres :

Drama, Japanese, Romance

Aspect Ratio :

1080P Hi-DEF 1.85:1

Language :

Japanese DTS-HD 7.1 , Thai DTS-HD 7.1

Subtitles :

Thai

Number of discs :

1

Package :

Blu-ray

Rated :

15+
Actors :

Keiko Horiuchi, Yuki Izumisawa, Erina Mano

Directors :

Sho Tsukikawa

Studio :

Asmik Ace Entertainment, Kyodo Tokyo, Shueisha

Run Time :

111 Mins.

Synopsis :

เรื่องย่อ : 100th Love with You ,The "ผมตกหลุมรักเพื่อนสนิทแต่ไม่เคยกล้าบอก จนวันที่ 31 เดือน 7 เวลา 18.10 คือวันที่เปลี่ยนทุกอย่าง" เคนทาโร่ ซาคากุจิ รับบท "ริคุ ฮาเซกาว่า หนุ่มนักท่องเวลา" เขาค้นพบพรสวรรค์นี้หลังการตาย ของเพื่อนสมัยเด็ก "อาโออิ ฮินาตะ" (มิวะ) เขาตัดสินใจ เปลี่ยนโชคชะตาด้วยการย้อนกลับไป 7 วัน ก่อนเกิดอุบัติเหตุ การท่องเวลาของเขาเปลี่ยนแปลงอะไรได้หลายอย่าง เปลี่ยนให้เธอเห็นคุณค่าความฝันของตัวเอง เปลี่ยนให้เธอกล้าทำฝันให้เป็นจริง แต่สิ่งที่เขาไม่เคยเปลี่ยนได้เลย คือ ช่วยชีวิตเธอ ในวันที่ 31 เดือน 7




Aoi and Riku, who have been friends since they were five years old, are part of a band with other students at the university they attend. Riku is known as being unflappable and "perfect" to fellow band members. Rifts and misunderstandings in the band, Strobocorp, lead to a misfired performance on Aoi's birthday at a local festival, after which she has a tragic accident. She awakens to find herself re-living the prior week before the problems emerged, and Riku reveals that he can turn back time. He explains that he has been doing this for years, allowing him to perfect his apparent abilities. They admit to each other that their feelings go beyond friendship as they repeatedly relive the past.