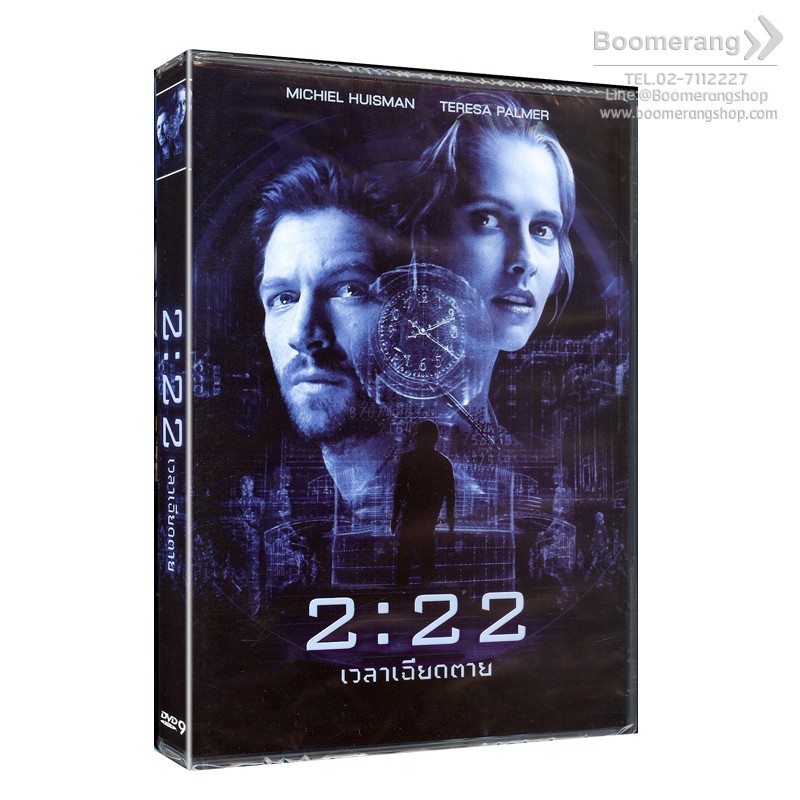 Click for larger image and over views
2.22/2.22 เวลาเฉียดตาย (SE)
Format: DVD (3)
UPC: 8858717224866
Product Status
Shipping & Pickup

Checking stock...
SRP (Baht) :

259.00

Our Price (Baht) :

189.00
Click to see shopping cart
details or checkout.

Release Date :

25/10/2017

Genres :

Action, Thriller

Aspect Ratio :

Anamorphic Widescreen 16:9

Language :

English 5.1, Thai 5.1

Subtitles :

Thai

Number of discs :

1

Package :

DVD SE

Rated :

15+
Actors :

Teresa Palmer, Michiel Huisman, Sam Reid

Directors :

Paul Currie

Studio :

Lightstream Entertainment, Pandemonium, Screen Australia

Run Time :

95 Mins.

Synopsis :




เรื่องย่อ : 2:22 ณ เวลา บ่าย 2 โมง 22 นาที ดีแลน แบรนสัน (มิเคียล ฮิวส์แมน จาก Game of Thrones, The Age of Adaline) มือดีที่สุดของกองควบคุมทางอากาศของสนามบิน JFK นิวยอร์ก ผู้คลั่งไคล้การจัดรูปแบบทุกอย่างให้กับชีวิต พบแสงประหลาดที่ทำให้เขากลายเป็นอัมพาตไปชั่วขณะจนเกือบทำให้เครื่องบิน 2 ลำชนกันกลางอากาศ... เขาถูกสั่งพักงานทันที จากวันนั้นเขายังคงเห็นเหตุการณ์รูปแบบเดิมๆ ไม่ว่าจะเป็น นักธุรกิจอ่านหนังสือพิมพ์ คู่รักจูบกัน คนท้อง กระจกแตก เสียงเบรก ซึ่งทุกอย่างล้วนนำไปสู่สถานีรถไฟแกรนด์เซนทรัลทุกบ่าย 2 โมง 22 นาที นี่ไม่ใช่แค่เรื่องบังเอิญ แต่มันคือปริศนาแห่งเวลา 2:22 ขณะเดียวกันเขาเริ่มมีความสัมพันธ์กับสาวสวยที่อยู่ในเครื่องบินที่เกือบตายยกลำในครั้งนั้นอย่าง ซาร่า บาร์ตัน (เทเรซ่า พาล์มเมอร์ จาก Warm Bodies, Lights Out, I am Number Four, Hacksaw Ridge) ซึ่งตกหลุมรักกันและกันตั้งแต่แรกเห็น แต่แล้วการเห็นภาพซ้ำๆ ทวีความรุนแรงขึ้นเรื่อยๆ ดีแลน ต้องใช้พรสวรรค์ที่มีอยู่หาคำตอบจากรูปแบบที่เขาเห็นและดึงตัวเองออกมาให้ได้ก่อนที่ห้วงเวลาแห่งความตายจะมาถึงตัว




A clever, roller-coaster thriller that centers on Dylan an air traffic controller who is given a jolt when he narrowly escapes being responsible for a mid air collision between two passenger planes. Caused by a mysterious blinding light that happened at 2:22, these strange occurrences continue and lead Dylan to meet Sarah, with whom he feels inexplicably linked. Together the two discover uncanny similarities with their current predicament and a double murder committed a generation ago. With a grim fate looming, Dylan must solve the mystery of 2:22 to preserve a love whose second chance has finally come.