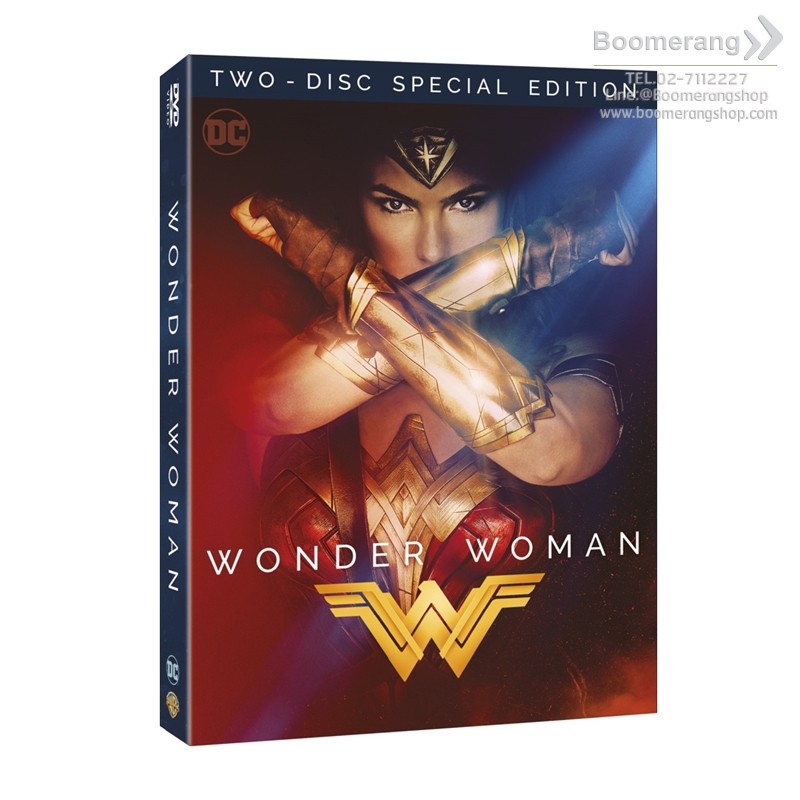 Click for larger image and over views
Wonder Woman/วันเดอร์ วูแมน (2017) (DVD SE 2 Disc)
Format: DVD (3)
UPC: 8858988848747
Product Status
Shipping & Pickup

Checking stock...
SRP (Baht) :

399.00

Our Price (Baht) :

339.00
Click to see shopping cart
details or checkout.

Release Date :

22/11/2017

Genres :

Action, Adventure, Fantasy

Aspect Ratio :

Widescreen 16:9

Language :

Disc 1: English 5.1, Portuguese 5.1, Spanish 5.1, Thai 5.1 / Disc 2: English

Subtitles :

Disc 1: English, Chinese, Cantonese, Portuguese, Spanish, Korean, Thai / Disc 2: English, French, Korean, Chinese, Thai

Number of discs :

2

Package :

DVD SE 2 Disc

Rated :

G
MORE THAN 2 HOURS OF BONUS CONTENT!

Explore the Filmmaking Journey to Create an Adventure Worthy of DC's Greatest Warrior. Join Director Patty Jenkins as She Takes you Through Wonder Woman's Most Pivotal and Exciting Moments. Extended Scenes / Blooper Reel / And more.
Actors :

Gal Gadot, Chris Pine, Robin Wright, David Thewlis, Danny Huston, Connie Nielsen

Directors :

Patty Jenkins

Studio :

Warner Bros., Atlas Entertainment, Cruel & Unusual Films

Run Time :

141 Mins.

Synopsis :

เรื่องย่อ : Wonder Woman กัล กาดอท (Gal Gadot) กลับมาสวมบท วันเดอร์วูแมน ในอภิมหาการผจญภัยจากฝีมือของผู้กำกับ แพ็ตตี้ เจนกินส์ (Patty Jenkins) โดยก่อนที่เธอจะเป็น วันเดอร์วูแมน เธอคือ ไดนาอ่า เจ้าหญิงแห่งอเมซอนที่ถูกฝึกฝนให้เป็นนักรบไร้เทียมทาน ซึ่งระหว่างเติบโตบนเกาะสวรรค์อันโดดเดี่ยว เธอได้พบกับนักบินชาวอเมริกันที่ขับเครื่องบินมาตกริมชายหาด โดยเขาเล่าถึงความขัดแย้งต่าง ๆ ที่เกิดขึ้นบนโลกภายนอก จนในที่สุดไดอาน่าตัดสินใจออกเดินทางจากบ้านเกิดเมืองนอน เพราะเชื่อว่าตัวเองสามารถหยุดยั้งภัยคุกคามต่าง ๆ ได้ ซึ่งในสงครามที่เธอต่อสู้เคียงข้างเหล่ามวลมนุษย์ ไดอาน่าจะค้นพบพลังเต็มรูปแบบและโชคชะตาที่แท้จริงของเธอ




Diana, princess of the Amazons, trained to be an unconquerable warrior. Raised on a sheltered island paradise, when a pilot crashes on their shores and tells of a massive conflict raging in the outside world, Diana leaves her home, convinced she can stop the threat. Fighting alongside man in a war to end all wars, Diana will discover her full powers and her true destiny.