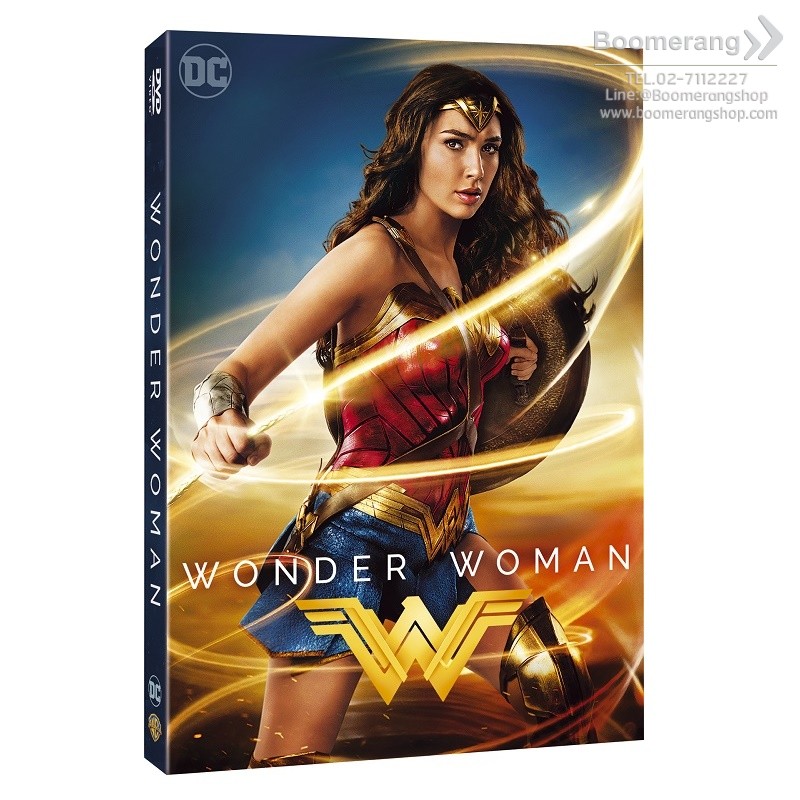 Click for larger image and over views
Wonder Woman/วันเดอร์ วูแมน (2017) (SE)
Format: DVD (3)
UPC: 8858988848730
Product Status
Shipping & Pickup

Checking stock...
SRP (Baht) :

359.00

Our Price (Baht) :

299.00
Click to see shopping cart
details or checkout.

Release Date :

22/11/2017

Genres :

Fantasy, Action, Adventure

Aspect Ratio :

Widescreen 16:9

Language :

English 5.1, Portuguese 5.1, Spanish 5.1, Thai 5.1

Subtitles :

English, Cantonese, Chinese, Korean, Portuguese, Spanish, Thai

Number of discs :

1

Package :

DVD SE

Rated :

G
- Diana in the Modern World
Actors :

Gal Gadot, Chris Pine, Robin Wright, David Thewlis, Danny Huston, Connie Nielsen

Directors :

Patty Jenkins

Studio :

Warner Bros., Atlas Entertainment, Cruel & Unusual Films

Run Time :

141 Mins.

Synopsis :

เรื่องย่อ : Wonder Woman กัล กาดอท (Gal Gadot) กลับมาสวมบท วันเดอร์วูแมน ในอภิมหาการผจญภัยจากฝีมือของผู้กำกับ แพ็ตตี้ เจนกินส์ (Patty Jenkins) โดยก่อนที่เธอจะเป็น วันเดอร์วูแมน เธอคือ ไดนาอ่า เจ้าหญิงแห่งอเมซอนที่ถูกฝึกฝนให้เป็นนักรบไร้เทียมทาน ซึ่งระหว่างเติบโตบนเกาะสวรรค์อันโดดเดี่ยว เธอได้พบกับนักบินชาวอเมริกันที่ขับเครื่องบินมาตกริมชายหาด โดยเขาเล่าถึงความขัดแย้งต่าง ๆ ที่เกิดขึ้นบนโลกภายนอก จนในที่สุดไดอาน่าตัดสินใจออกเดินทางจากบ้านเกิดเมืองนอน เพราะเชื่อว่าตัวเองสามารถหยุดยั้งภัยคุกคามต่าง ๆ ได้ ซึ่งในสงครามที่เธอต่อสู้เคียงข้างเหล่ามวลมนุษย์ ไดอาน่าจะค้นพบพลังเต็มรูปแบบและโชคชะตาที่แท้จริงของเธอ




Diana, princess of the Amazons, trained to be an unconquerable warrior. Raised on a sheltered island paradise, when a pilot crashes on their shores and tells of a massive conflict raging in the outside world, Diana leaves her home, convinced she can stop the threat. Fighting alongside man in a war to end all wars, Diana will discover her full powers and her true destiny.