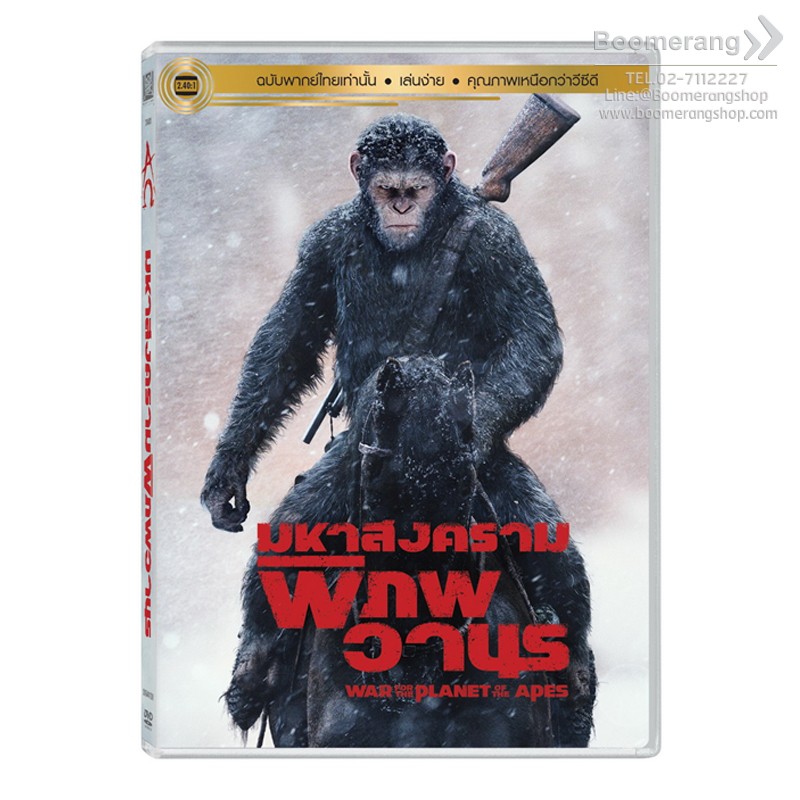 Click for larger image and over views
War For The Planet Of The Apes (Vanilla)/มหาสงครามพิภพวานร (ฉบับเสียงไทย)
Format: DVD (Vanilla)
UPC: 8858988848976
Product Status
Shipping & Pickup

Checking stock...
SRP (Baht) :

259.00

Our Price (Baht) :

99.00
Click to see shopping cart
details or checkout.

Release Date :

01/11/2017

Genres :

Action, Adventure, Drama

Aspect Ratio :

16:9 Letterbox, 2.40:1

Language :

Thai 5.1

Number of discs :

1

Package :

DVD Vanilla

Rated :

G
Actors :

Andy Serkis, Woody Harrelson, Steve Zahn

Directors :

Matt Reeves

Studio :

20th Century Fox

Run Time :

140 mins

Synopsis :




เมื่อ ซีซาร์ และเหล่าวานร เผชิญความขัดแย้งกับกองทัพฝ่ายมนุษย์ซึ่งนำโดยพันเอกผู้เหี้ยมโหด โดยหลังจากที่ฝูงวานรต้องรับมือกับความสูญเสียอย่างใหญ่หลวง ซีซาร์ ต้องต่อสู้กับสัญชาตญาณดิบในจิตใจ พร้อมหาทางแก้แค้นให้กับพวกของตัวเอง ซึ่งซีซาร์และพันเอกต้องเอาชนะซึ่งกันและกัน ในสงครามครั้งใหญ่ที่จะตัดสินชะตาของทั้งสองเผ่าพันธุ์และอนาคตของโลก




Caesar and his apes are forced into a deadly conflict with an army of humans led by a ruthless Colonel. After the apes suffer unimaginable losses, Caesar wrestles with his darker instincts and begins his own mythic quest to avenge his kind. As the journey finally brings them face to face, Caesar and the Colonel are pitted against each other in an epic battle that will determine the fate of both their species and the future of the planet.