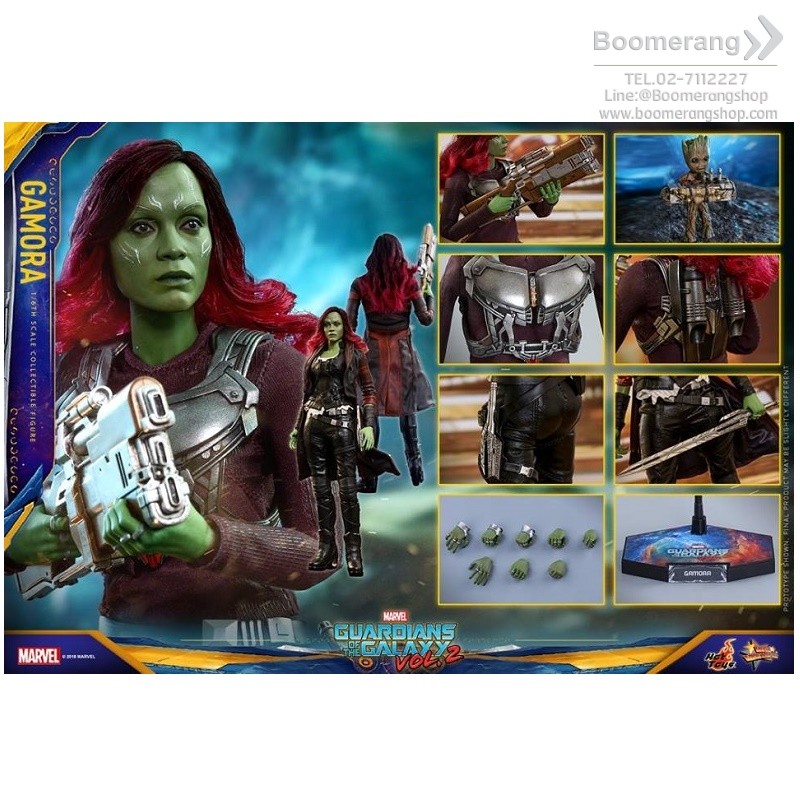 Click for larger image and over views
MMS482 1/6th Scale GAMORA Collectible Figure from Guardians of the Galaxy Vol. 2 (จองถึงวันที่ 27/5/18)*ปิดรับจองแล้ว* (วันที่ออกอาจมีการเปลี่ยนแปลง)
Format: Figure And Model
UPC:
Product Status
Shipping & Pickup

Checking stock...
SRP (Baht) :

9,999.00

Our Price (Baht) :

9,999.00
Click to see shopping cart
details or checkout.

Release Date :

31/10/2019
Studio :

Hot Toys / Marvel

Synopsis :




SPECIFICATIONS

PRODUCT CODE : MMS483

PRODUCT NAME : GAMORA

HEIGHT : APPROXIMATELY 28 CM TALL

POINTS OF ARTICULATIONS : 28

SPECIAL FEATURES : LONG CURLY BLACK AND PURPLISH-RED REAL FABRIC HAIR IMPLANTATION, A BLASTER, A MINIATURE BABY GROOT HOLDING A BOMB

ARTISTS :

- HEAD SCULPTED BY JAE SUNG EOM & JONG HYEOK PARK.

- HEAD PAINTED BY JC. HONG. GROOT SCULPTED AND PAINTED BY VIVA LAI.

- HEAD ART DIRECTED BY JC. HONG




The 1/6th scale Gamora Collectible Figure specially features:

- Newly developed head sculpt with authentic and detailed likeness of Zoe Saldana as Gamora in Guardians of the Galaxy Vol. 2

- Green-colored face with movie-accurate facial expression and make-up

- Long curly black and purplish-red real fabric hair implantation

- Specialized body with over 28 points of articulations

- Approximately 28 cm tall

- Eight (8) pieces of interchangeable hands including:

- One (1) pair of relaxed hands

- One (1) pair of hands for sword

- One (1) right hand for holding sword

- One (1) right hand for holding gun

- Each piece of head sculpt is specially hand-painted




Costume:

- One (1) reddish brown and black-colored leather-like long coat

- One (1) black-colored leather-like vest showing the edge of white tank top

- One (1) long sleeved burgundy shirt

- One (1) pair of black-colored leather-like pants with patterns

- One (1) pair of black boots

- One (1) black and silver-colored belt with holster




Weapons:

- One (1) fully extended sword

- One (1) folded up sword




Accessories:

- One (1) Aero Rigs jetpack with armored chest plates

- One (1) miniature Baby Groot holding a bomb

- Specially designed figure stand with character nameplate and movie logo




Artists:

- Head sculpted by Jae Sung Eom & Jong Hyeok Park

- Head painted by JC. Hong

- Miniature Groot sculpted and painted by Viva Lai

- Head art directed by JC. Hong




Release date: Approximately Q2 - Q3, 2019




**Prototype shown, final product may be slightly different

**Product details could be subjected to change without further notice




2018 Hot Toys Limited. All Rights Reserved.