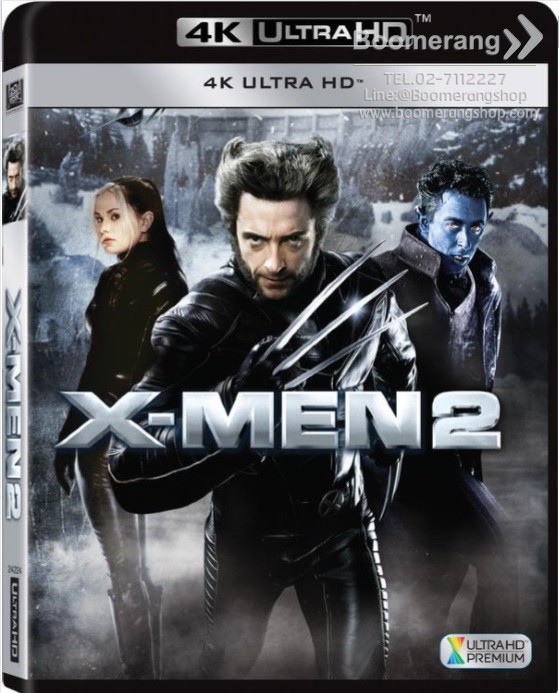 Click for larger image and over views
X-Men 2/X-เม็น 2 (4K Ultra HD)
Format: 4K-UHD
UPC: 8858988851037
Product Status
Shipping & Pickup

Checking stock...
SRP (Baht) :

1,290.00

Our Price (Baht) :

1,190.00
Click to see shopping cart
details or checkout.

Release Date :

31/10/2018

Genres :

Action, Adventure, Fantasy, Sci-Fi

Number of discs :

1

Package :

4K Ultra HD

Rated :

PG-13
4K-UHD

Run Time: 133 mins

Aspect ratio: 2160p Ultra High Definition Widescreen 2.40:1 (HDR: HDR10)

Audio: English DTS HD MA 5.1, Spanish 5.1, French DTS 5.1, Castilian DTS 5.1, German DTS 5.1, Italian DTS 5.1, Japanese DTS 5.1 Hybrid, Japanese DTS 5.1, Czech 2.0 Surround, Polish 2.0 Surround

Subtitles: English, Spanish, French, Castilian, Danish, Dutch, Finnish, German, Italian, Japanese Hybrid, Japanese, Norwegian, Swedish, Cantonese, Czech, Mandarin, Polish




4K-UHD Feature Film + Special Features

- Audio Commentary by Bryan Singer and Tom Sigel

- Audio Commentary by Lauren Shuler Donner, Ralph Winter, Michael Dougherty, Dan Harris and David Hayter






Actors :

Patrick Stewart, Hugh Jackman, Ian McKellen, Halle Berry, Famke Janssen, James Marsden

Directors :

Bryan Singer

Studio :

20th Century Fox

Synopsis :




Several months have passed since The X-Men defeated Magneto and imprisoned him in a seemingly impregnable plastic chamber. One day, a mutant by the name of Nightcrawler infiltrates the White House and attempts to assassinate the president, setting off a chain reaction of anti-mutant measures by the government. Meanwhile, Logan is trying to discover his past. As scientist named William Stryker discovers Professor X's secret school and Cerebro, Magneto's partner, Mystique, is planning to break her leader out of prison. But when Professor X's school is attacked by Stryker's forces, Logan, Rogue, Iceman and a few are lucky to escape. Those who remain meet in Boston, where they form an uneasy alliance with Magneto to stop Stryker and rescue Professor X.