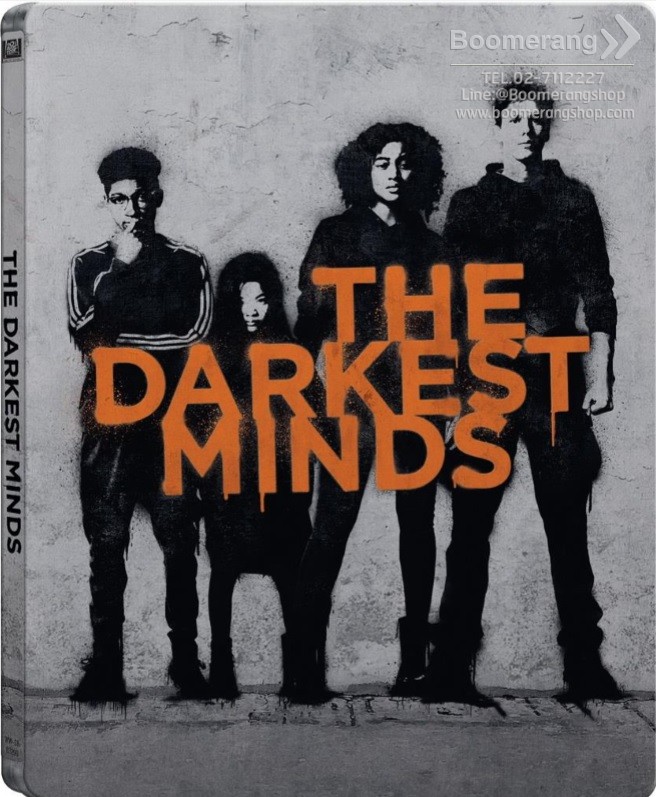 Click for larger image and over views
Darkest Minds, The/ดาร์กเกสท์ มายด์ส จิตทมิฬ (Blu-ray + Steelbook)
Format: Blu-ray
UPC: 8858988851532
Product Status
Shipping & Pickup

Checking stock...
SRP (Baht) :

1,199.00

Our Price (Baht) : 1,050.00
Promotion Price (Baht) :

399.00
Click to see shopping cart
details or checkout.

Release Date :

07/11/2018

Genres :

Sci-Fi, Thriller

Number of discs :

1

Package :

Blu-ray + Steelbook

Rated :

PG-13
Blu-ray

Run Time: 103 mins

Aspect ratio: 1080p HD Widescreen 2.39:1

Audio: English DTS HD MA 7.1, English AD 5.1, Thai 5.1, Spanish 5.1, Portuguese 5.1, French 5.1, Czech 5.1, Hindi 5.1, Hungarian 5.1, Polish 5.1, Turkish 5.1

Subtitles: English, Thai, Spanish, Portuguese, French, Arabic, Bulgarian, Cantonese, Croatian, Czech, Greek, Hebrew, Hindi, Hungarian, Icelandic, Korean, Malay, Polish, Romanian, Serbian, Slovak, Slovenian, Turkish




Blu-ray Feature Film + Special Features

> Remember -- A Look Beyond Ruby and Liam's Last Kiss (Original Animatic by Jennifer Yuh Nelson)

> Deleted Scene

> Gag Reel

> Jennifer Yuh Nelson: Heroine at the Helm

> Character Profiles

- Ruby: Harnessing Hope

- Liam: A Complicated Relationship

- Chubs: Found Family

- Zu: Awakened Abilities

- Clancy: Crafting a Possible Future

> Storyboard to Screen Comparison

> Feature Commentary by Jennifer Yuh Nelson, Dan Levine and Dan Cohen

> The Power of Georgia

> Behind the Scenes in Georgia

> Gallery

> Theatrical Trailer






Synopsis :




From producers of Stranger Things comes an empowering tale of teens who mysteriously develop new abilities and are declared a threat by the government. Ruby (Amandla Stenberg), one of the most powerful young people anyone has encountered, escapes and joins a group of runaway teens seeking safe haven. Soon, this newfound family realizes that collective power is needed to take back control of their fate and save future generations.