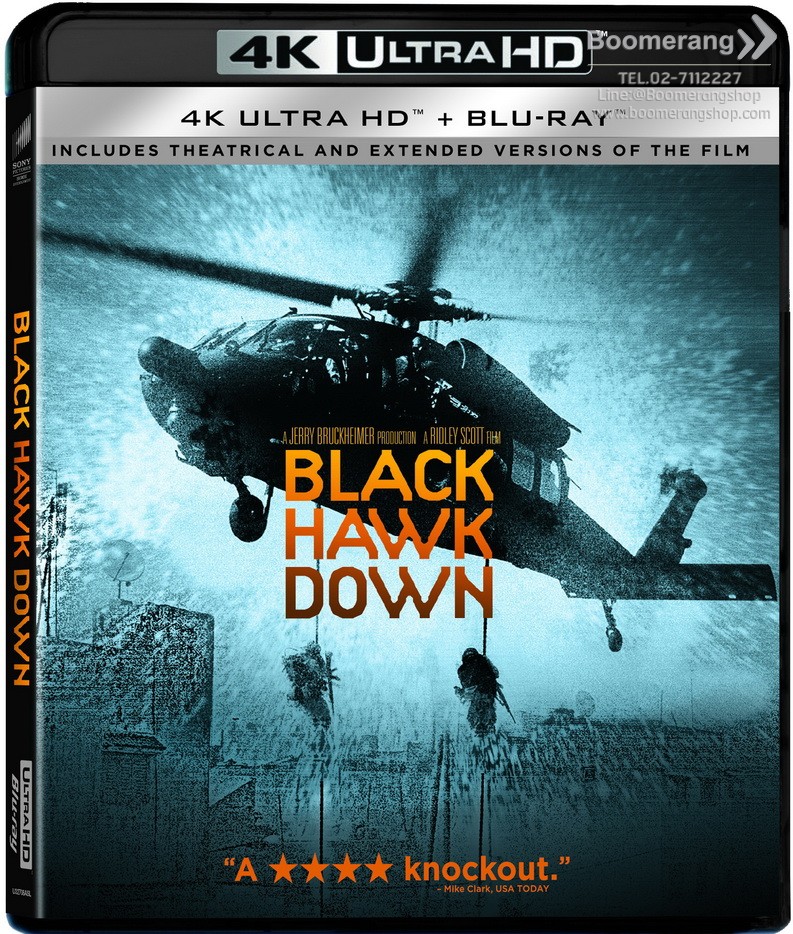 Click for larger image and over views
Black Hawk Down/ยุทธการฝ่ารหัสทมิฬ (4K Ultra HD + Blu-ray) (4K มีเสียงไทย+ซับไทย) (BD มีซับไทย) (ราคานี้ถูกกว่าสั่งจากเวปใหญ่อเมริกา)
Format: 4K-UHD
UPC: 8859125501891
Product Status
Shipping & Pickup

Checking stock...
SRP (Baht) :

1,790.00

Our Price (Baht) :

959.00
Click to see shopping cart
details or checkout.

Release Date :

12/06/2019

Genres :

Action, Drama, War

Number of discs :

2

Package :

4K Ultra HD + Blu-ray

Rated :

R
4K-UHD

Run Time: 144 mins (Theatrical Version) / 152 mins (Extended Version)

Aspect ratio: 2160p Ultra High Definition Widescreen 2.40:1 (HDR: HDR10)

Audio: English Dolby Atmos (Dolby TrueHD 7.1 Compatible), English DTS HD MA 5.1, Thai Dolby Digital 5.1 (TH Feature)

Subtitles: English, English SDH, Thai (TH & EXT Features)




4K-UHD Feature Film




Blu-ray

Run Time: 144 mins

Aspect ratio: 1080p HD Widescreen 2.40:1

Audio: English PCM 5.1, English Dolby Digital 5.1

Subtitles: English, English SDH, Thai




Blu-ray Feature Film + Special Features












Synopsis :




From acclaimed director Ridley Scott (Gladiator, Hannibal) and renowned producer Jerry Bruckheimer (Pearl Harbor, Armageddon) comes a gripping true story about bravery, camaradarie and the complex reality of war. Black Hawk Down stars an exceptional cast including Josh Hartnett (Pearl Harbor), Ewan McGregor (Moulin Rouge!), Tom Sizemore (Saving Private Ryan), Eric Bana (Chopper), William Fichtner (The Perfect Storm), Ewen Bremner (Snatch) and Sam Shepard (All The Pretty Horses). In 1993, an elite group of American Rangers and Delta Force soldiers are sent to Somalia on a critical mission to capture a violent warlord whose corrupt regime has led to the starvation of hundreds of thousands of Somalis. When the mission goes terribly wrong, the men find themselves outnumbered and literally fighting for their lives.