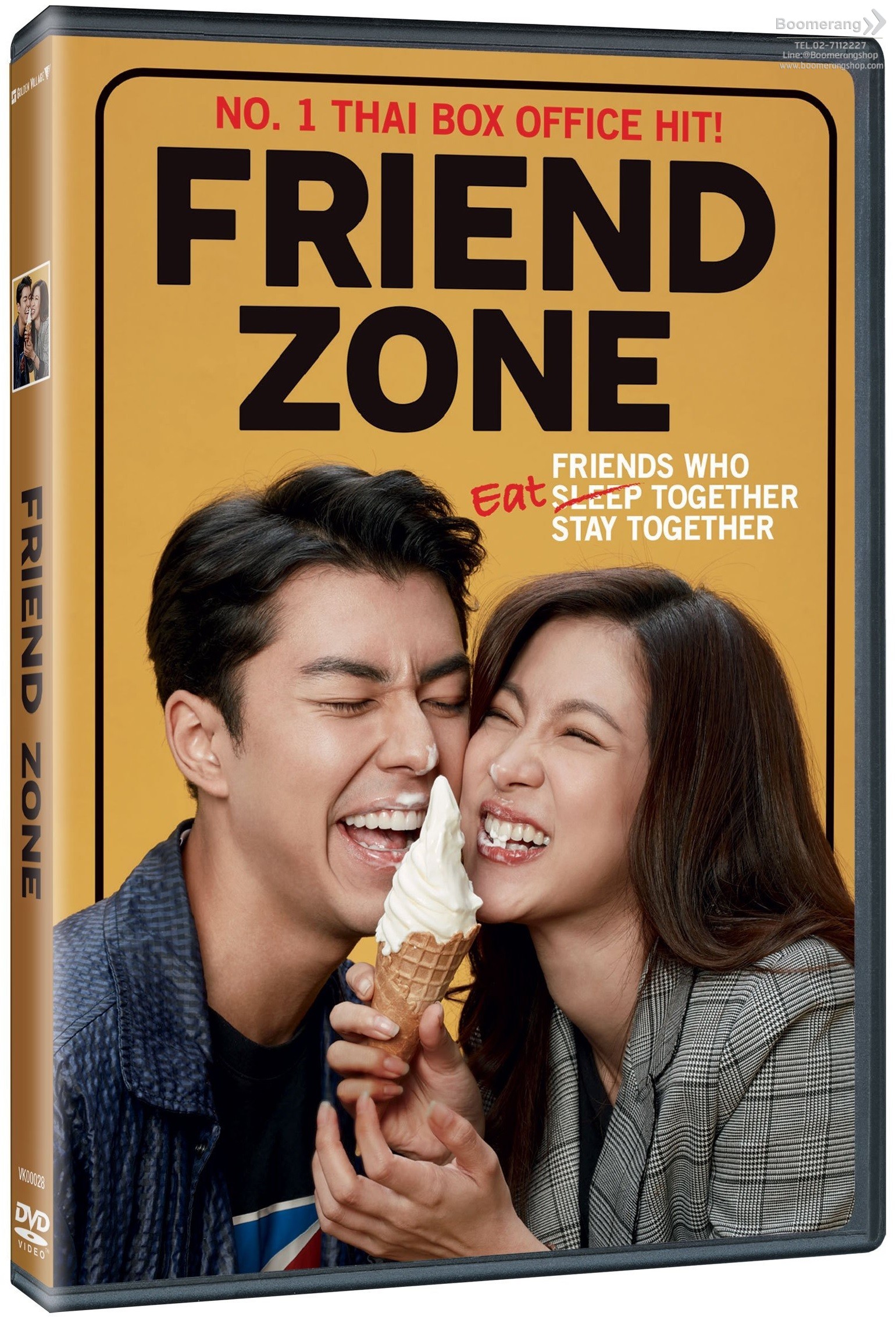 Click for larger image and over views
Friend Zone/ระวัง..สิ้นสุดทางเพื่อน (DVD Import)
Format: DVD (ALL)
UPC:
Product Status
Shipping & Pickup

Checking stock...
SRP (Baht) :

0.00

Our Price (Baht) :

329.00
Click to see shopping cart
details or checkout.

Release Date :

01/10/2019

Genres :

Comedy, Romance, Thai

Number of discs :

1

Package :

DVD

Rated :

PG-13
DVD

Run Time: 119 mins

Aspect ratio: Widescreen 2.39:1

Audio: Thai 5.1

Subtitles: English, Chinese, Thai






Synopsis :




NO. 1 THAI BOX OFFICE HIT!




FRIENDS WHO EAT TOGETHER STAY TOGETHER




In this world, there are many people who seem to be wandering along a relationship borderlining 'friends' and 'lovers'. This borderline is also commonly known as the FRIEND ZONE. It is a special area for those who are stuck in the middle where they cannot really stay friends with their close friends, nor move forward to be their friends' lovers. Palm (Naphat Siangsomboon) is one of those who has been stuck in the friend zone with his best friend, Gink (Pimchanok Luevisadpaibul), for 10 years.




During high school, he tried to cross the line by confessing his feelings for her. But Gink simply rejected him, saying that "being friends is good enough." Since then, Palm and Gink have grown closer as true best friends. Every time Palm breaks up with any of his countless girlfriends, Gink will tell him off, talking some sense into him. And every time Gink fights with her boyfriend, no matter where she happens to be in Myanmar, Malaysia, or Hong Kong. All she has to do is make a call to Palm, who uses his perks as a flight attendant to catch flights to be with her. Perhaps, it is because of his excessive kindness that also makes Gink has a problem with Ted (Jason Young) her boyfriend.




One day, Gink asks Palm out of the blue, "have you wondered. . . what if we were an item?" Right then, sparks fly wildly inside Palm's mind, knowing that this might be the only chance for him to cross the borderline. Although, Palm has no way of knowing if leaving the FRIEND ZONE this time will lead him to the beginning of his romantic love life or to the end of his friendship with Gink for good.