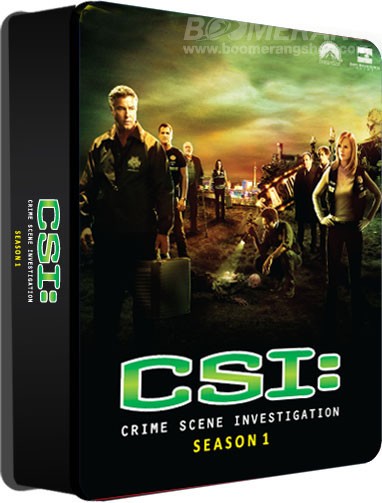 Click for larger image and over views
CSI Crime Scene Investigation 01/ไขคดีปริศนา เวกัส ปี 1 (6 Discs Digipack - Metal Box Set)
Format: DVD (3)
UPC: 8853351406098
Product Status
Shipping & Pickup

Checking stock...
SRP (Baht) :

1,790.00

Our Price (Baht) :

899.00
Click to see shopping cart
details or checkout.

Release Date :

28/07/2011

Genres :

Drama, Series, Thriller

Aspect Ratio :

Widescreen

Language :

English 5.1, Thai 5.1

Subtitles :

English, Thai

Number of discs :

6

Rated :

NR
The Deluxe Metal Box Set includes 6 DVDs and a Premium 12-page Booklet.

Behind-the-Scenes Featurettes:
- CSI Featurette "People Lie... But The Evidence Never Does"
- CSI Music Video "Who Are You"
- Character Profiles
- Photo Gallery
- Episode Selection
Actors :

Paul Guilfoyle, Marg Helgenberger, Jorja Fox, William Petersen, Gary Dourdan, George Eads

Studio :

Paramount Pictures

Run Time :

1060 mins

Synopsis :

It's all here. All the cases. All the evidence. All the solutions. All 23 episodes of the Golden Globe nominated first season of CSI. Now available in this special edition DVD set, containing special features and behind-the-scenes extras.

Season One highlights include:
- The "pilot" episode that started it all.
- Blood Drops the quadruple murder that is arguably the best CSI episode to date.
- Unfriendly Skies, the death on a commercial airliner- One of T.V. Guides top ten episodes of the year (2000).