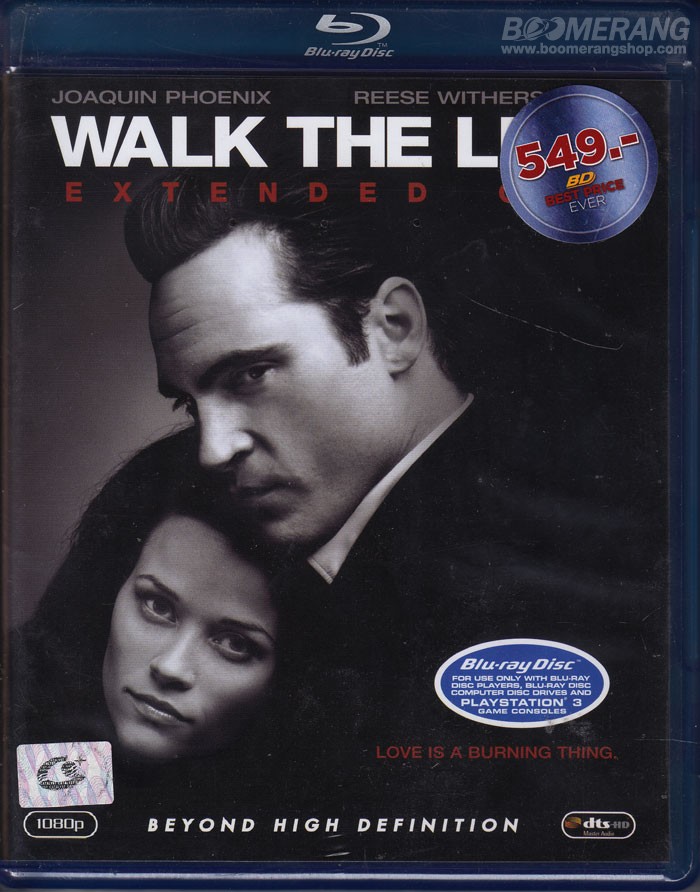 Click for larger image and over views
Walk The Line (2005)/วอล์ค เดอะ ไลน์ อ้อมกอดรักก้องโลก (2 Disc) (Blu-Ray)
Format: Blu-ray
UPC: 8856574043668
Product Status
Shipping & Pickup

Checking stock...
SRP (Baht) :

1,390.00

Our Price (Baht) : 1,290.00
Promotion Price (Baht) :

399.00
Click to see shopping cart
details or checkout.

Release Date :

28/05/2011

Genres :

Country, Drama, Musical, Romance

Aspect Ratio :

Widescreen 2.40:1 (1080p)

Language : ENGLISH: DTS-HD MA 5.1
SPANISH: DTS 5.1
Subtitles :

English, Spanish, Portuguese, Thai, Cantonese, Korean, Mandarin, Indonesian

Number of discs :

2

Rated :

PG-13
DISC ONE: THE FILM
- Extended Cut of the Flim
- Feature Commentary with co-writer/director James Mangold
DISC TWO: BONUS FEATURES
- Johnny Cash Jukebox: Walk The Line Extended Musical Sequences with New Introductions
- More Man In Black: Deleted Scenes
- Becoming Cash/Becoming Carter Featurette
- Sun Records and the Johnny Cash Sound Featurette
- Folsom: Cash and the Comeback Featurette
- The Cash Legacy Featurette
- Ring of Fire: The Passion of Johnny and June Featurette
- Cash and His Faith Featurette
- Celebrating the Man in Black: The Making of Walk the Line Featurette
- Walk The Line Theatrical Trailer
Actors :

Joaquin Phoenix, Reese Witherspoon, Ginnifer Goodwin, Robert Patrick, Dallas Roberts, Cathy Konrad, James Keach

Directors :

James Mangold

Studio :

20th Century Fox

Run Time :

153 mins

Synopsis :

Singer. Rebel. Outlaw. Hero. With his driving freight-train chords; steel-eyed intensity and a voice as dark as the night; the legendary "Man in Black" revolutionized music?and forged his legacy as a genuine American icon. Golden Globe winners Joaquin Phoenix and Reese Witherspoon star (and sing) as Johnny Cash and June Carter in this inspiring true story of one man's unwavering devotion to his sound; his message and the greatest love of his life.