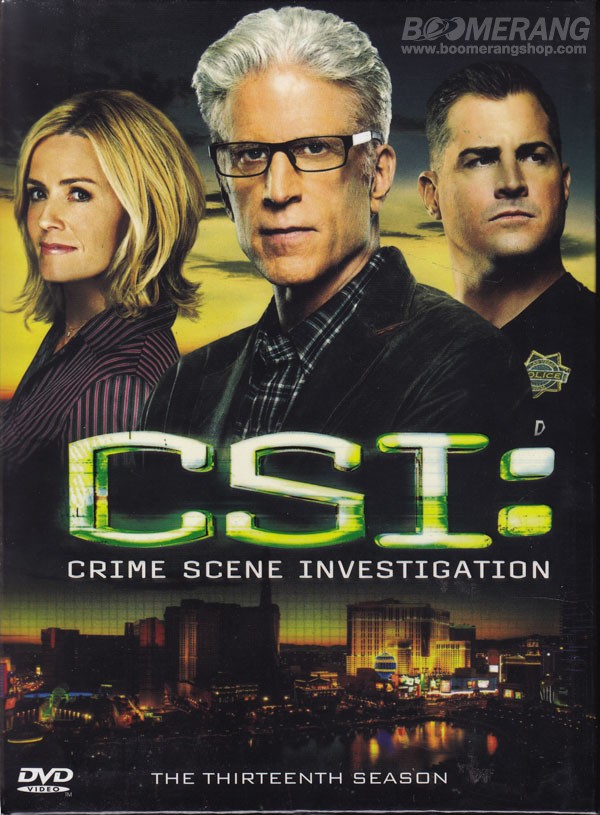 Click for larger image and over views
CSI Crime Scene Investigation 13/ไขคดีปริศนา เวกัส ปี 13 (DVD 6 Disc Box Set)
Format: DVD (ALL)
UPC: 8859125400293
Product Status
Shipping & Pickup

Checking stock...
SRP (Baht) :

1,990.00

Our Price (Baht) :

699.00
Click to see shopping cart
details or checkout.

Release Date :

20/12/2013

Genres :

Drama, Series, Thriller

Aspect Ratio :

Widescreen 16:9

Language :

English 5.1, Thai 5.1

Subtitles :

English, Thai

Number of discs :

6

Package :

DVD Box Set, Digipack/Slipcase

Rated :

NR
- Chapter 13

- The Extended Family

- Drawing Blood

- Providing Food And Shelter

- Observing The Sabbath

- Black Sabbath: End Of The Beginning Music Video

- Anatomy Of A TV Hit: CSI -- Crime Scene Investigation

- Photo Gallery

- Languages: English

- Subtitles: English, Thai
Actors :

Robert David Hall, Eric Szmanda, Wallace Langham, Elizabeth Harnois, Paul Guilfoyle, Ted Danson

Directors :

Anthony E. Zuiker, Ann Donahue

Studio :

Alliance Atlantis Communications, CBS Paramount Network Television, CBS Productions

Run Time :

989 mins

Synopsis :

CSI: Crime Scene Investigation winner and recipient of multiple Emmy Awards continues reaching new heights as television's premiere procedural thriller. Under the leadership of D.B. Russell (Emmy winner Ted Danson), the Las Vegas Police Department's CSI night shift explores twisted crimes with their inquisitive minds and cutting-edge science. Unorthodox maverick Julie Finlay (Oscar nominee Elisabeth Shue) and seasoned investigators Nick Stokes (George Eads), Sara Sidle (Jorja Fox) and Greg Sanders (Eric Szmando) passionately follows the evidence. Wherever it leads, they can count on the forensics and detective work of the rest of the team (including Paul Guilfoyle, Robert David Hall, Wallace Langhorn, Elisabeth Harnois, David Berman and Jon Wellner). Fascinating, shocking, and always entertaining, CSI invites you to follow the clues in 22 never-wracking episodes collected in this six-disc set, which also features a special CSI: NY crossover episodes with Gary Sinise.