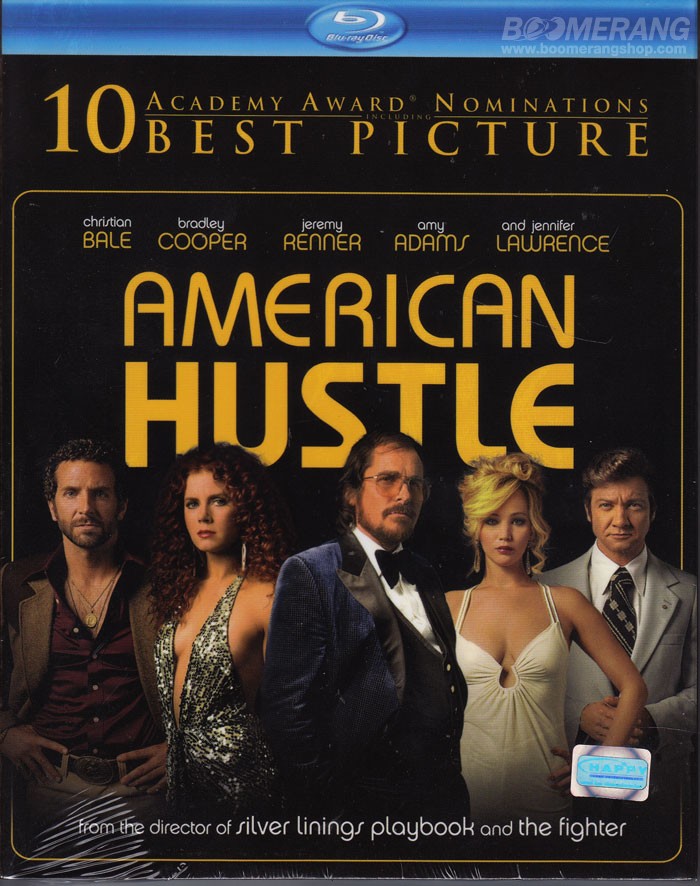 Click for larger image and over views
American Hustle /โกงกระฉ่อนโลก (Blu-ray 1 Disc)
Format: Blu-ray
UPC: 8859125400798
Product Status
Shipping & Pickup

Checking stock...
SRP (Baht) :

899.00

Our Price (Baht) :

599.00
Click to see shopping cart
details or checkout.

Release Date :

24/04/2014

Genres :

Drama

Aspect Ratio :

1080 HD 2.40:1

Language :

English DTS HD MA 5.1, Thai DTS HD MA 5.1

Subtitles :

English, Thai

Number of discs :

1

Package :

BD

Rated :

R
- The Making Of American Hustle

- Deleted And Extended Scenes
Actors :

Jack Huston, Jennifer Lawrence, Jeremy Renner, Bradley Cooper, Louis C.K., Amy Adams, Michael Pena, Christian Bale

Directors :

David O. Russell

Studio :

Columbia Pictures, Annapurna Pictures, Atlas Entertainment

Run Time :

138 mins

Synopsis :

A fictional film set in the alluring world of one of the most stunning scandals to rock our nation, American Hustle tells the story of brilliant con man Irving Rosenfeld (Christian Bale), who along with his equally cunning and seductive British partner Sydney Prosser (Amy Adams) is forced to work for a wild FBI agent Richie DiMaso (Bradley Cooper). DiMaso pushes them into a world of Jersey powerbrokers and mafia that's as dangerous as it is enchanting. Jeremy Renner is Carmine Polito, the passionate, volatile, New Jersey political operator caught between the con-artists and Feds. Irving's unpredictable wife Rosalyn (Jennifer Lawrence) could be the one to pull the thread that brings the entire world crashing down. Like David O. Russell's previous films (The Fighter, Silver Linings Playbook), American Hustle defies genre, hinging on raw emotion, and life and death stakes.