After you make an order or if your back order is completed, we will immediately issue your invoice and contact you for further procedure.

You can check your invoice status by logging in to member service system and click Check My Invoice as the picture below: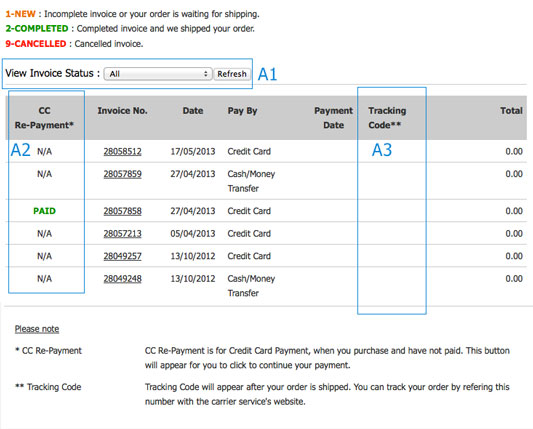 A1
You can specify your invoice condition.
A2
CC Re-Payment
is only for credit card payment.
There are two statuses of CC Re-Payment:
PAID
Completed credit card payment and your shipping is processing.
Not Approved
your credit card is not approved because of an incorrect credit card details or your credit card is over limit. We suggest you to contact your bank directly. If you are not pleased to proceed your payment, we have to cancel this invoice. New invoice will be issued for you to continue your payment.

CC Re-Payment appears when you have not continued your payment. You can click to continue your payment.
A3
Tracking Code Tracking Code No. will appear after we shipped ypur order. This is for you to track your order with Thailand Post or DHL.
1-NEW
Incomplete invoice or your order is waiting for shipping.
2-COMPLETED
Completed invoice and we shipped your order.
9-CANCELLED
Cancelled invoice.