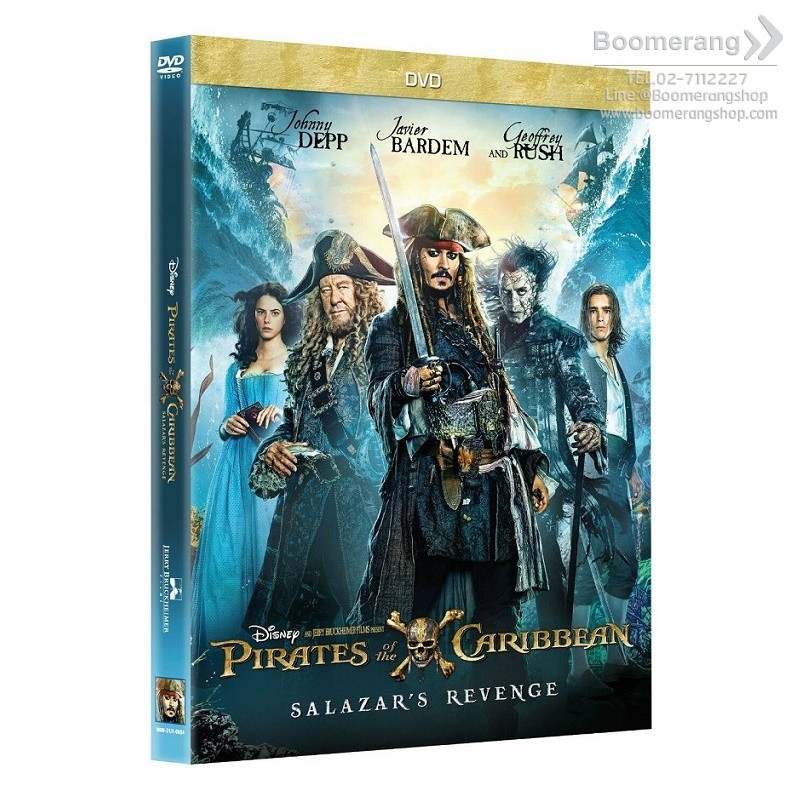 Click for larger image and over views
Pirates Of The Caribbean 5: Salazar's Revenge/สงครามแค้นโจรสลัดไร้ชีพ (2017) (SE)
Format: DVD (3)
UPC: 8858508073970
Product Status
Shipping & Pickup

Checking stock...
SRP (Baht) :

299.00

Our Price (Baht) :

289.00
Click to see shopping cart
details or checkout.

Release Date :

30/10/2017

Genres :

Adventure, Fantasy, Action

Aspect Ratio :

Widescreen 16:9

Language :

English 5.1 Dolby Digital, Thai 5.1 Dolby Digital, Portuguese 5.1 Dolby Digital, Spanish 5.1 Dolby Digital

Subtitles :

English, Thai, Indonesian Bahasa, Portuguese, Spanish, Simplified Chinese

Number of discs :

1

Package :

DVD SE

Rated :

PG-13
BONUS EXTRA

- First Mate Confidential: Meet Kevin McNally, the actor who plays the loyal and feisty Mr. Gibbs in all five Pirates films.
Actors :

Johnny Depp, Javier Bardem, Geoffrey Rush, Brenton Thwaites, Kaya Scodelario, Kevin McNally

Directors :

Joachim Ronning, Espen Sandberg

Studio :

Walt Disney Studios

Run Time :

129 mins

Synopsis :




จอห์นนี เดปป์ กลับมารับบท กัปตันแจ็ค สแปร์โรว์ ในการเดินทางที่มีเค้าลางของโชคร้ายลอยมาแต่ไกล เมื่อกองทัพโจรสลัดผีนำโดย กัปตันซาลาซาร์ (ฮาเวียร์ บาร์เด็ม) หลบหนีจากสามเหลี่ยมปีศาล และหมายจะเอาชีวิตโจรสลัดทุกคนในท้องทะเลโดยเฉพาะแจ็ค ซึ่งทางรอดเดียวของแจ็คคือการตามหาตรีศูลของโพไซดอนในตำนาน โดยเขาต้องร่วมมือกับ คาริน่า สมิธ (คายา สโคเดลารีโอ) นักดาราศาสตร์แสนสวยและชาญฉลาด กับทหารเรือหนุ่มหัวแข็งอย่าง เฮนรี่ (เบรนตัน ทเวทส์) และออกเดินทางด้วยเรือลำใหม่อย่าง Dying Gull ที่เล็กและเก่าจนไม่น่ามอง ซึ่งภารกิจของกัปตันแจ็คไม่ใช่แค่การเอาชนะโชคร้ายครั้งนี้เท่านั้น แต่ต้องเอาชีวิตรอดจากศัตรูจอมพยาบาทและน่ากลัวที่สุดเท่าที่เขาเคยพบมา




Johnny Depp returns to the big screen as the iconic, swashbuckling anti-hero Jack Sparrow in the all-new "Pirates of the Caribbean: Salazar's Revenge." The rip-roaring adventure finds down-on-his-luck Captain Jack feeling the winds of ill-fortune blowing strongly his way when deadly ghost sailors, led by the terrifying Captain Salazar (Javier Bardem), escape from the Devil's Triangle bent on killing every pirate at sea-notably Jack. Jack's only hope of survival lies in the legendary Trident of Poseidon, but to find it he must forge an uneasy alliance with Carina Smyth (Kaya Scodelario), a brilliant and beautiful astronomer, and Henry (Brenton Thwaites), a headstrong young sailor in the Royal Navy. At the helm of the Dying Gull, his pitifully small and shabby ship, Captain Jack seeks not only to reverse his recent spate of ill fortune, but to save his very life from the most formidable and malicious foe he has ever faced.