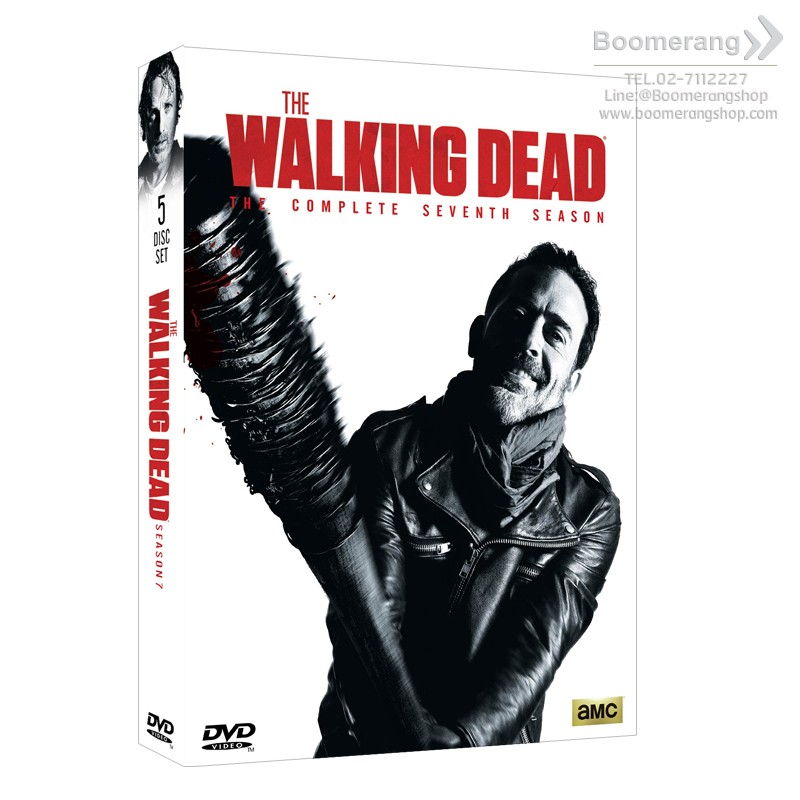 Click for larger image and over views
Walking Dead, The: Season 7 (Boxset 5 Disc)
Format: DVD (ALL)
UPC: 8859125420086
Product Status
Shipping & Pickup

Checking stock...
SRP (Baht) :

1,190.00

Our Price (Baht) :

829.00
Click to see shopping cart
details or checkout.

Release Date :

25/10/2017

Genres :

Horror, Thriller, Drama

Aspect Ratio :

Widescreen 16:9

Language :

English 5.1, Thai 5.1

Subtitles :

English , Thai

Package :

DVD Boxset

Rated :

18+
Actors :

Andrew Lincoln, Norman Reedus, Melissa McBride

Directors :

Frank Darabont

Studio :

American Movie Classics (AMC), Circle of Confusion, Valhalla Motion Pictures

Run Time :

797 Mins.

Synopsis :




เรื่องย่อ : The Walking Dead Season 7 ครึ่งแรกของซีซั่น 7 จะนำเสนอเรื่องราวของกลุ่มผู้รอดชีวิต ริค และพวกพ้อง ที่ตกอยู่ในสภาพใจสลาย ชีวิตพัง ช็อกจากการสูญเสีย ต้องใช้ชีวิตอยู่ภายใต้ความกดดัน นีแกน สามารถข่มกดกลุ่มริคได้อย่างที่เขาต้องการ ทั้งยังขู่เชิงโน้มน้าวให้ กลุ่มริค ยอมศิโรราบอยู่ภายใต้กฎของตนโดยใช้วิธีเชือดไก่ให้ลิงดู ว่าถ้าหากไม่ยอมทำตาม พวกเขาจะต้องรับผลเช่นไร




Season 7 of the post-apocalyptic drama deals with the aftermath of the previous season's ending: Negan (Jeffrey Dean Morgan) kills two beloved characters and breaks Rick (Andrew Lincoln) spiritually and Daryl (Norman Reedus) physically. Ultimately, the group of survivors can't do anything else but agree to work for Negan and his Saviors. Meanwhile, Morgan (Lennie James) and Carol (Melissa McBride) find themselves in the Kingdom, a community run by King Ezekiel (Khary Payton) that seems safe and welcoming. At Alexandria, people try to live their lives as always, though Negan's barbaric rule worries everybody. Elsewhere, Maggie (Lauren Cohan) and Sasha (Sonequa Martin-Green) go to the Hilltop to recover from the ordeal and to check on Maggie's pregnancy. The rest of the season is all about the three communities coming together and taking on Negan's army in an all-out war.