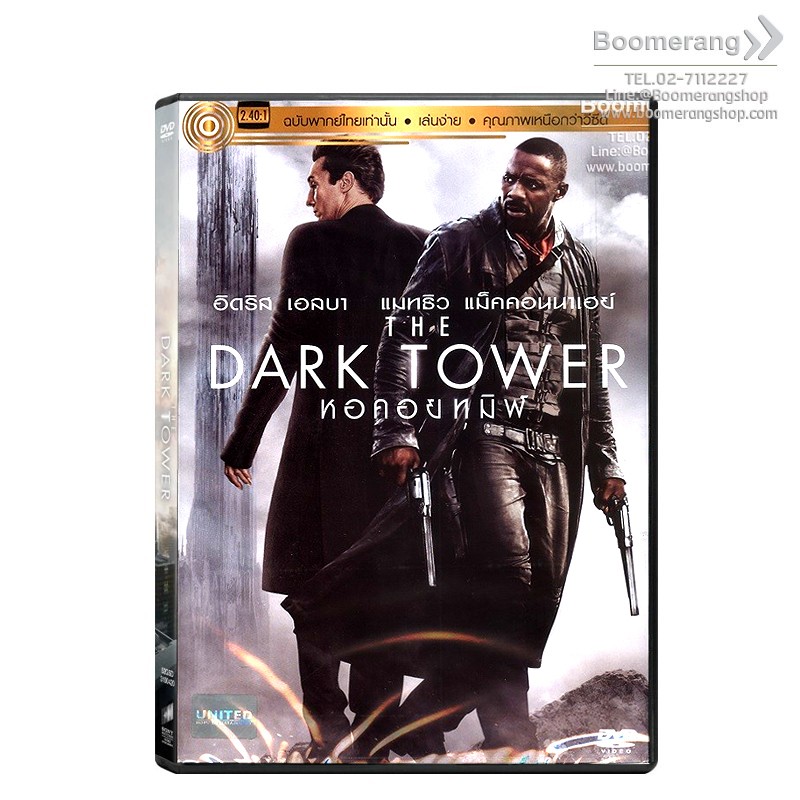 Click for larger image and over views
Dark Tower, The (Vanilla)/หอคอยทมิฬ (ฉบับเสียงไทย)
Format: DVD (Vanilla)
UPC: 8858988751320
Product Status
Shipping & Pickup

Checking stock...
SRP (Baht) :

259.00

Our Price (Baht) :

189.00
Click to see shopping cart
details or checkout.

Release Date :

08/11/2017

Genres :

Action, Adventure, Fantasy

Aspect Ratio :

Anamorphic Widescreen 2.40:1

Language :

Thai Dolby Digital 5.1

Number of discs :

1

Package :

DVD Vanilla

Rated :

PG-13
Actors :

Idris Elba, Matthew McConaughey, Tom Taylor

Directors :

Nikolaj Arcel

Studio :

Sony Pictures

Run Time :

95 mins

Synopsis :




ดัดแปลงจากหนังสือตอนแรกที่ชื่อว่า The Gunslinger หรือ มือปืน นำแสดงโดย ไอดริส เอลบา (Idris Elba) สวมบท โรแลนด์ เดสเชน มือปืนคนสุดท้าย ที่ออกเดินทางเพื่อค้นหาหอคอยทมิฬซึ่งเป็นศูนย์กลางของจักรวาลทั้งหลาย และตามไล่ล่า วอลเตอร์ ปาดิค ชายชุดดำ-บ่าวรับใช้แห่งหอคอยทมิฬ รับบทโดย แมทธิว แม็คคอนาเฮย์ (Matthew McConaughey) เขาต้องฝ่าฟันอันตรายรอบตัว ซึ่งในระหว่างเดินทาง โรแลนด์ ได้รู้จักกับเด็กหนุ่มอย่าง เจค แชมเบอร์ รับบทโดย ทอม เทย์เลอร์ (Tom Taylor) ผู้มีความสามารถในการส่องแสง ซึ่งช่วยให้ชายชุดดำสามารถทำลายหอคอย และช่วยให้วอลเตอร์เดินทางข้ามมิติได้




The last Gunslinger, Roland Deschain, has been locked in an eternal battle with Walter O'Dim, also known as the Man in Black, determined to prevent him from toppling the Dark Tower, which holds the universe together. With the fate of the worlds at stake, good and evil will collide in the ultimate battle as only Roland can defend the Tower from the Man in Black.